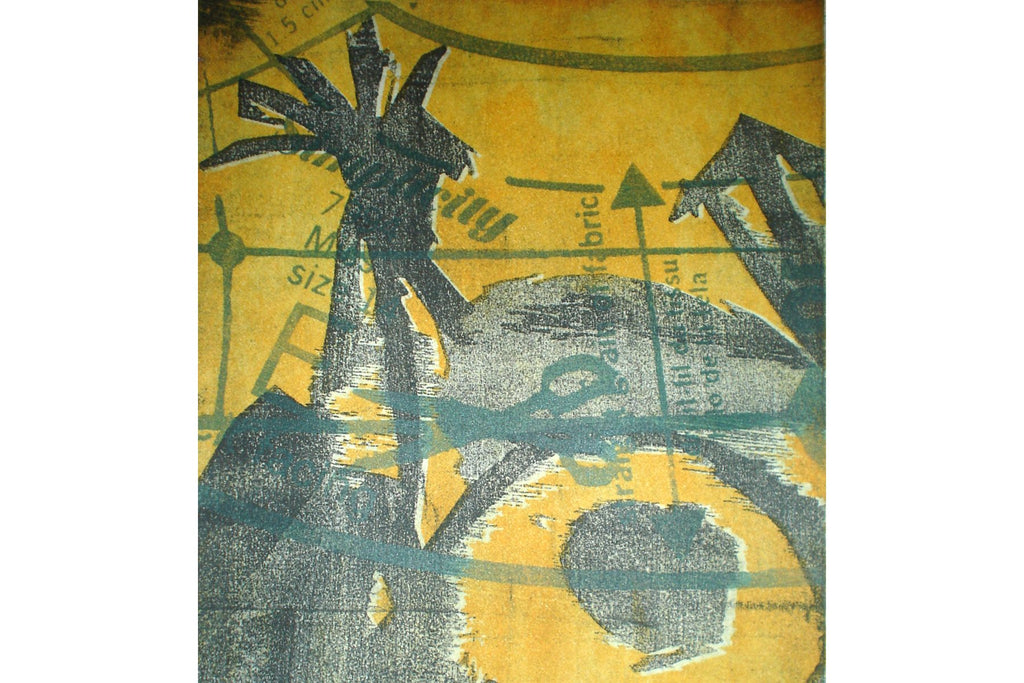 Gum Arabic Transfer Day
Location
Leicester Print Workshop
Date & Time
Sunday 14th April
10.00am - 4.00pm
Tutor 
Emma Gardner
This course is now full. We recommend Experimental Photo Screenprinting as a good alternative, or email us to be added to the reserve list.
Gum Arabic transfer is also known as "paper lithography" and uses laser photocopies as a starting point to create prints. Colour, text, drawings and photographs can be used to develop your print. A great technique for experimenting with colour and collage.  
Course Structure
Morning
Introduction to LPW and the course.
What is a Gum Arabic? Principles of the process and examples.
Preparing artwork for the process.
Exposing and developing the plate. Demonstration and hands on practice.
Demonstration and hands on practice.
 Afternoon
What is a halftone? Demonstration of applying a halftone in Photoshop.
Self-directed work.
Clean up and close of course.
About the Tutor
Emma Gardner is an artist, printmaker and educator. She creates original artwork using collage, photography and printmaking processes.

Emma's practice is shaped by her response to places, questioning ideas of space, concealment and transition through printmaking. Her works often evoke a sense of stillness and silence within ambiguous spaces.

Emma studied Fine Art at De Montfort University, Leicester. After graduating in 2012 she joined Leicester Print workshop to help facilitate her practice and was awarded Artist in Residence in 2015. Emma is currently teaches a diverse range of printing techniques at LPW. She exhibits nationally and internationally and has a wealth of experience working on creative projects with community groups, schools, museums and galleries. Alongside her practice Emma works as a Learning Officer at Compton Verney Art gallery and Park, where she pursues her passion for learning outside the classroom.
Bookings
Online: You can book online here by credit / debit card or Paypal.
Telephone: You can pay by card over the phone during our opening hours (Tuesday - Saturday, 10am - 5pm). Call us on 0116 251 4174.
In person: Call in to Leicester Print Workshop during our opening hours (Tuesday - Saturday, 10am - 5pm) to book and pay by card, cash or cheque.
Pre-course information: We will send you details of how to find us and what to bring with you when we process your booking. 
Concessions
Full-Print Members of Leicester Print Workshop are entitled to a 10% discount on our inhouse courses. Interested in joining LPW as a member? Click here for more information.
---